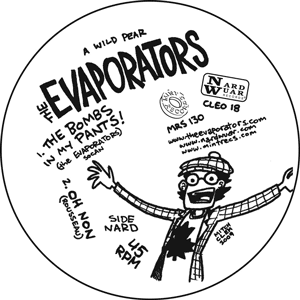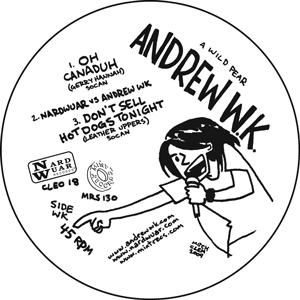 Four songs!
Nard vs. AWK interview snippet!
Extensive liner notes!
Exclusive artwork by Mitch Clem!
Pressed on white vinyl!
"It gives me great pleasure to announce my partnership with Vancouver, British Columbia, Canada's The Evaporators, as we release a new split 7" EP! It's called, 'A Wild Pear', and features artwork by American cartoonist, Mitch Clem! I'm honored to be part of the this special musical moment. I've been a fan of Nardwuar since I first saw him on bootleg VHS copies of his Cable Access TV shows. Then I found out about The Evaporators, and I was even more blown away. I've recorded my own cover versions of two classic Canadian punk tunes: The Leather Uppers - 'Don't Sell Hot Dogs Tonight', and Subhumans - 'Oh Canaduh'. I love both of these songs and had an amazing time recording them. I've been a strong fan of the Leather Uppers since I first heard about their music from my friend Jim Magas, almost 14 years ago.
Plus on the 7" you're holding now, you can also get your own dose of The Evaporators, with these two songs: an original "The Bombs in My Pants" and also a cover "Oh Non" ( originally by Montreal 1960's group Les Hou-Lops).
I consider this release to be the result of a magical circle, one that started for me back in high school, while living in southeast Michigan. Having the opportunity to meet Nardwuar was a dream come true and the first time the circle connected. Getting to make this record with him is the circle coming together another time, and I'm very grateful. Out of respect for dreams coming true, I dedicate my contributions on this 7" to Canada, Nardwuar, and my wife, Cherie Lily."
- Andrew W.K.
DOWNLOAD Full Liner Notes (PDF)
Related:
More Interviews (Full Length) :
Band Links:
More Linky:
Thanks to William Jans and Willis Hagar for the pics and Mitch Clem for the drawings!