Did you have any trouble getting backstage though? Was his pass to get you backstage?
Backstage was really weird. There was an island that was called Press Island. I called the weekend "Fear And Loathing On Press Island." It was 120 degrees everywhere and it wasn't in Vancouver before I flew down, so I wore lots of black and fur-lined boots but it was really, really hot in California. I remember one of the people from The Clash's crew said to me that the last time they looked there were 23 different backstage passes that got you into the backstage area. I met two guys that had gold dots on their passes, big round gold dots on their passes. I said, "What are those?" They said, "They get us anywhere we want, they're all access." I said "Where did you get those from?" They said "We drove in to San Bernardino and went into a craft store and bought the dots." And they got to go anywhere they wanted. There was an island with Wozniak on it. There was a special viewing area where his family and friends from Apple got to sit. There was 400,000 people out in the audience at the height of the 'heavy metal day' and David Bowie headlined the third night.
And Flock Of Seagulls also played.
Did they?
Yes they did.
I don't remember that. I remember U2.
You took a photo of them.
I took a photo of Flock of Seagulls?
At the US festival.
Yeah, I got the t-shirt, I was going to cross out the names of all the bands that didn't let me photograph them. But now it's all drifted away and I don't remember which ones did and which ones didn't. The Clash were very good in those days, the only band that mattered they'd say.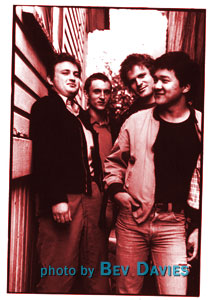 Here is a picture of the second best band in Vancouver, British Columbia, Canada, you might almost say the best band from Vancouver, British Columbia, Canada, The Subhumans.
Yeah another band that really matters. When you were saying the second best band you were quoting me because of course D.O.A. was my first, best band. There wasn't a moment when you watched a band like The Subhumans or a band like D.O.A. that it wasn't total joy watching this band, listening to their music, watching them entertain. Totally entertaining, wonderful musicians. Good songs. It's got a good beat and you can dance to it, isn't that what they used to say on American Bandstand?
Do you have any favourite memories of The Subhumans at all?
Just their music. I love their music. There isn't anyone else that quite sounds like them.
Any particular song?
What was the name of that song they didn't write...
"Screwed Up."
"Screwed Up."
By Menace.
There we go. Great song by them. And then there was all those ones that XTC said to Steve Macklam (Manager of the Pointed Sticks and Diana Krall) , "I don't know what's wrong with all the bands in Vancouver but if they really wanted to be famous they wouldn't do songs like "Fuck You" and "Thirteen" and all those other bands that used obscene words in their songs.
That's when you met with some British guys right? Like some British music execs were saying that the Vancouver bands have all these swear words and why are they doing this if they want to be famous?
No, it was the guys from XTC. The band XTC were saying that. They were saying "Why would they (The Subhumans) want to write a song called 'Slave To My Dick' if they wanted to be famous? That's not going to be on The Hit Parade." But it was on ours when we went to those music things. The Subhumans couldn't get through a concert without playing "Slave To My Dick."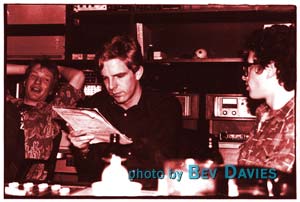 And now we have another photo here. What are we seeing in this particular photo, Bev Davies, photographer extraordinaire?
It's a picture from Little Mountain Sound and we have January 1980 on it. Bob Rock was doing engineering for Art Bergman and Art Bergmann was in a band called The K-Tels, which may have had their name changed to The Young Canadians by that date, it seems to me. And the manager Gerry Barad.
Who Terry McBride of Nettwerk Records doesn't quite remember as the manager of The Young Canadians, but there's some proof right there.
Yeah I know, I was listening to your show when Terry was saying "No, he never managed anybody." He was also known as Pino Rogeletti and the IUDs, Gerry Barad was. He had a band.
And that's why a lot of the Vancouver punk bands sounded so great, it was Bob Rock wasn't it? I mean I hate to give him props, you know now being with the Metallica St. Anger thing, but he really did a kick-ass job with those Vancouver punk bands like The Young Canadians, eh?
Yep, and The Payola$, which of course he was in The Payola$ himself. It was a good recording studio that people used and they used it in the off-time, which to bands at the time, 2 and 3 in the morning seemed like the off time, to these musicians it was the perfect time to be going in there at inexpensive prices.
Little Mountain has now turned into The Factory in Vancouver, British Columbia, Canada, where The New Pornographers have recorded.
Yeah, I've heard a lot about them lately. They've been doing quite well. They were on David Letterman or something like that.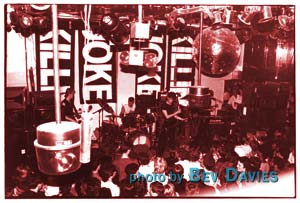 They were indeed. Vancouver kids make good. And right here Bev Davies, we have a picture of a Vancouver venue. We saw a Vancouver recording studio there, now a Vancouver venue. What's happening here Bev Davies?
Killing Joke. Killing Joke played the Luv-A-Fair. Now the Luv-A-Fair was one of those dance clubs that sprung up in the mid-'80s and may have even gone back earlier into the '70s but they played dance music, they played recorded music, and I refused to go. Not that I can't dance, I can dance sometimes, but I would rather spend the evening seeing the Subhumans play or going to a D.O.A. gig or going to any local bands or going to bands from other parts of the world and they're standing up there and they're actually playing. And then Killing Joke booked at this place and I didn't have a choice, I mean I just had to see them. It was a band that I never thought would tour to Vancouver and they were gonna play the Luv-A-Fair that I had never gone to. And so this is a photograph of the inside which I found shocking with the disco balls and all the lights and things like that.
A huge disco ball there?
Gigantic, gigantic disco ball. And they had flashing lights and all that kind of stuff.
And Killing Joke put on a good show too!
They did, they were very good. They're Killing Joke. And they mentioned to me, they said if you want to, if you really enjoy seeing the show you might want to come to Iceland and see us with the Icelandic Philharmonic Orchestra in two months. I went, "Oh that's nice. I don't think I'll be going to Iceland," but I'm sure it was good over there with the Icelandic Philharmonic Orchestra.
The Luv-A-Fair is now gone, but the floor of the Luv-A-Fair and the stools of the Luv-A-Fair are now at the Cobalt Hotel on Main Street, Vancouver, in Vancouver, British Columbia, Canada, Bev.
They have a new floor at the Cobalt?
Yes they do, the floor from the Luv-A-Fair.
Oh wow. I wonder if my feet would stick to it like old floor at the Cobalt. Soaked with beer!