'Cause you're coming up to Vancouver. This is Crispin Glover and you're coming up to Vancouver on Saturday night for the Big Slide Show and I've heard you talk before, well through friends I've heard bootleg recordings and stuff...no, just joking...but you seem to talk very intellectual.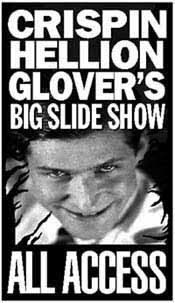 Ha ha ha.

Like you don't have no degree to help you spew out those words at all?
I went to a small private school for about nine years in Los Angeles, and it was a very good school and then I went to a public school for a few years after that, in high school, and I found the education was not quite as, uhh, good basically. It was just...it was quite lacking. So I feel I had a very good beginning education.

When you broke into the movie scene, well, like you said in like 1977, you started acting, but you know around 1983 your filmography seems to start, at least from the stuff we've been faxed here...
Right...

Who were your contemporaries around that time? Who were the people that acted with you, the people that were your age, and what are they up to now?
Ha ha ha well, uh, ha ha ha...

You know like there was that hollywood brat pack, rat pack, etc. What are your contemporaries up to and you know, how has your career paralleled with them?
You know it's funny. I've never really felt that I've gotten into...it's hard for me...I mean I can consider certain people contemporary by my age, by being the exact same age...

That's what I mean. Like you showed up in, for instance in that movie High Shool USA, weren't you?
Yes.

Like Todd Bridges was in there...
Right...I know...ha ha ha.

And Nancy McKeon, or whatever her name was. Like those are kinda contemporaries of yours. Like how has your career paralleled those? Because I would say you've done pretty well compared to them.
Well, I mean, the thing is you can always compare yourself to somebody, and you can make yourself feel kind of terrible or great by doing so, but I think it's better to just, kind of, you know, figure out what it is that you're wanting to try to do, and not necessarily try to compare one's self to...

Well come on, who were your friends back then? I mean are they still your friends now? I mean how have their careers differed? I'm just curious because like you said you had you know a big break with the Back to the Future movie. What other actors have had continual breaks that started around the same time as you? That's what I was curious about.
Well like I say, see, you're kind of gauging it from a different point of view than I am. It's...I've been working for such a long time that my contemporaries have changed every few years or so. If you mean contemporaries by the idea that they're people that are working at the same time as I am, or if you mean by people...

On the same set...like you showed up for the McDonald's shoot or whatever for the commercial and there was a guy there and now he's gone on to something else...because I would argue Crispin...because the promoter of the gig here Nettie said that you're kind of having a hard time, you know you haven't had that many big movies lately, but I would say that you're ultra successful. You're doing just great compared to those other people.
Uhhh ha ha well I, I, don't know...I don't really like think of it like that exactly.

Ok. What can people expect from Crispin Hellion Glover's Big Slide Show?
Um, well it's, I take old books for the 1800's and rework them and these are slides of the books. And I narrate them as the slides go.

This is kind of like a Woody Allen thing where he buys like a foreign movie and redubs it?
No, because the books are definitely my own doing. Some of them do use original words from the original books but some of them, quite a few of them, in fact most of them are really just kind of written by myself.

And a lot of them are based in like the 1800's, aren't they...they have that 1800's kind of theme to them...you're kind of totally into that?
Yeah most of the books are taken from the 1800's because I do like that time but also for publishing it works out well. They're not in copyright infringement because of the time period.

Have you ever heard of a band from San Francisco called the Caroliner Rainbow at all?
No.

'Cause they're totally obsessed by the 1800's too or that kind of era and they have neat kind of like hand designed record album covers.
Oh.

A friend of mine actually saw your performance in Olympia...you did a slide performance. Is that going to be the same thing that's going to be happening here?
Yes. Yes. That's right.

He kind of commented that some of the audience -- now how do you perceive this -- that some of the audience was laughing like AT you, rather than with you...
Ha ha ha I don't, I don't feel like that. I feel that the laughs in the show...I've done the show quite a few times now...and they stayed pretty consistent as to where they are and they're generally about the same things...it's pretty evident that they're laughing at the things that are within the context of the books.

So you've never liked jumped in the audience and started to punch somebody out 'cause they got you mad or something...
Ha ha ha. No no. The audiences have always been really quite receptive. It's always been...everyone seems to have enjoyed it quite a bit.