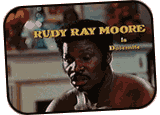 Nardwuar: Who are you?
Dolemite: I am Rudy Ray Moore, is Dolemite!
Rudy, is there going to be some Dolemite franchising soon?
Yes. I am now featured with Altoids mints. Instead of them calling them Altoids mints, they are calling them Dolemints. They're for breathe, to clean the breath.
That's kind of interesting, isn't it? I bet a lot of people wanted to clean your breath in the '60s, didn't they? Probably with soap?!
Well, don't you know it! (laughs)
And, Rudy Ray Moore, in the very beginning, at the very very beginning, you were a dancer? Like going way back, you were a dancer?
I was a dancer. They called me Prince Basil Dumarr.
What groups did you work with back then, Rudy?
I worked with a group called the Prince Dumarr, uh, African Dancers. We did afro dances, and my dances were called the Drama of the Hindu Dance, the Drama of the African Dance, the drama of the Chinese Dance, and it was my own operation, my own organization that did them. It was African dancing. Jungle dancing. You know, like, you saw jungle films when you see afro dancing done by natives in the jungle? It was an interpretation of that.
What year was this approximately, and where?
This was in 1952, in Cleveland, Ohio.

When you were dancing, Rudy Ray Moore, did you ever throw any lyrics in there as well?
When I danced, I did chants. Before when I'd hit the floor, I'd go "Ahhhh ahhhh. Semilooooo. Jungoooooo." And then the drums would start playing and we'd start dancing. So I did do a little singing in the dancing.
As rock 'n' roll started coming in, did you get into that with the routines of dancing? Like, did you ever end up doing "The Chicken" or "The Mashed Potato" or "The Fly"? Were you dancing for any rock 'n' roll groups?
No, in the rock 'n' roll era I came out as a singer. I did rock 'n' roll tunes like "Robbie Dobbie" and one of the biggest I had was called "Step It Up And Go."
Did you have any hits that 'hit' Billboard, Rudy Ray Moore, with your early days, rockin' out.
The closest I got to it was the tune I did on World Pacific Records called "Easy Easy Baby." It was called a, not a bullet, but it was reaching for the chart but it never made it.
Do you remember who you played with back then? What was the circuit that you were on? Do you remember your first gig, like your first big show you played? Where was this? When was this?
Mm, yes. the first big show I did was many years ago I worked with the late Big Joe Turner in Cleveland at the Paradise Auditorium.
Whereabouts did you play? Did you play all across the country? What was the circuit that you were on?
Uh, during those years, I did take out groups like -- you've heard of Ray Charles, have you?