Touch wood, touch wood.
Well... I should've broken me leg... I ended up falling off stage in Santa Barbara and this was the night before we had two shows in Berkeley... no... or was Oakland University and it was on the tour where us and New Order co-headlined. I ended up falling off the stage cause we were on a smaller stage than we were used to when it was a Bunnymen gig and I fell off the stage backwards cause I'd forgotten for the moment where I was and I assumed... well, I used to do this backwards gun thing during the song "Bed Bugs and Ballyhoo" and I fell down a shaft because we put big basebins in the orchestra pit so it meant that the gap-and this was probably a good thing-that the gap was only three feet wide. Went down there with me guitar, strapped to me back like Elvis and I just collapsed. It was quite a drop, like twelve feet or something. And I was lying there at the bottom, but me leg-me right leg seemed to have gone down separately from the rest of me body... It was almost like doing the splits down a wall, you know. And then a couple of the roadies pulled me up, phoenix-like, on one leg as I came out, carried me on the set and came offstage where my leg was twice as wide as my left one. I was in agony for days. A doctor in San Francisco prescribed the wrong treatment, he said deep heat when when I got back to England the doctor told me the opposite. He told me I should've had cold, icepacks and straight to the hospital. And what had happened was a pint of blood had clotted in my leg and when we got to the hospital--- Well, lucky it was the end of the tour because I could've ended up losing a leg or dying or something because the clot was that big it would've moved at some point. But I got on to Liverpool and I was in agony and me wife was giving me absolutely no sympathy. She said, "Well, if you could do the other two gigs you must be all right" I couldn't move! I couldn't get out of bed, really 'cause it was hurting that much! I went to the hospital and he looked at it and said "Jesus Christ, you've gotta go st raight in and get this removed! 'cause you've got a pint of blood clotted in your leg and it's really serious!" So the following morning I had it done. I've still got the scar, it's a great scar, down the side of me calf. But in the Oakland gigs, I'm hobbling around. I've just been on stage, I'd still be grooving, but then coming off, I'd just be in total agony and limping around to the dressing room. And in the dressing room, Courtney Love is in there sitting on the floor with Pete the drummer and Jake, who was kinda a roadie / keyboard player. And they're laughing! And I assume, because I was a bit paranoid in those days, that they're laughing at me. And they probably were, who knows, but I could've at least seen the funny side, if I hadn't have been so... I was just pissed off so I said, "Ahh you, get out of my fucking dressing room!" (laughs) And she was shocked you know, so she probably wasn't laughing, you know, at anything other than a joke they told. But that kind of started a few years of kind of non-talking. I know I upset her and I've apologized since. At that point, I knew I was going to split the band up at the end of the tour and I thought... I was just a bit paranoid, you know.
What year was that Ian?
It was 87.
87?
Yeah, the back end of 1987.
And Courtney Love was hanging around back then, then?
Yeah.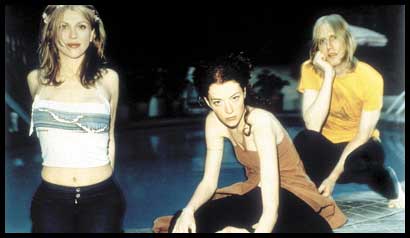 Wow! That's pretty old skool! Well I guess she'd been to England earlier and actually---
Well actually she came to Liverpool when she was 15, so very early on around there, you know, '81, '82. She was into Echo and the Bunnymen I think since, Crocodiles, it was 1980.
And coming up shortly Ian, we're going to have some questions from Courtney Love for you that I can ask via me, Nardwuar the Human Serviette, but a couple more quick things here. Just wondering, Ian, have you seen Morrissey around at all, has he been to any of your gigs? What's going on with Morrissey?
Nothing I know of. I'm sure I would have spotted that chin (laughs) if he was down in the front row, but no, I mean, we only have bumped into each other once to do an interview in England. He's was really nice, Morrissey. But I don't know where he lives now. Is he in LA or is he in London?
I think he is in LA. Haven't you actually been to his house Ian McCulloch of Echo and the Bunnymen?
Hehe (laughs) Yeah, we dropped him off, me and Lorraine (Ian's wife). Well, Lorraine dropped him off because she was the driver, but we did an interview together in Liverpool and he pronounced chasm "CH-asm" which I've never ever told journalist or anything. I was just amazed that he mis-pronounced chasm when he was described in the interview as the well read erudite kind of, you know, "booksmith," you know. And I was described actually in the same interview as a bit of a "blaggard" (laughs). I thought that was ironic.
Have you ever been to his house for dinner before, though?
Oh no, no we had dinner in Liverpool in the hotel. But we just dropped him off, it was his mum's house in Manchester in '82, no '83. It was earlier on before they went big. Johnny Marr on the other hand, I did a lot of writing with.
Ian McCulloch, when you see Vancouver listed on the tour sheet what do you think of. Like when you think of Vancouver, BC, where I'm from, what do you think of?
In the past, the first time we ever went there I remember, it was when we played the Commodore Ballroom years and years ago in the early '80s. I remember we had a night off on the first night so me and the tour manager and few other of the night owls prowled the streets looking for you know, dens of iniquity and stuff. And all I remember hearing in the main part of the centre was a woman screaming or women screaming in far off darkened alleyways. I thought, what the bloody hell is going on here? It sounded more scary than New York ever was and I remember thinking there seemed to be real proper loonies on the street. Which I dug. It was kind of like Liverpool on a Saturday Night, you know.