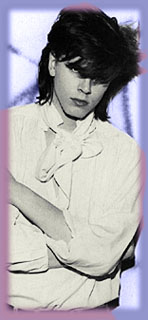 John Taylor, did you have to quickly do some more power shopping after that to catch up?
(laughs) Yeah, probably, but you can't replace classic items like that though, you know, because with the really good designers, you know, there never.... I used to like Versace in the '80s - I hate Versace today, but he did some really good stuff. Designers are like any artist: sometimes when they're hungry, they do great stuff, and then they start doing well and they get really bland, and then they start losing money so somebody kicks them up the ass so maybe they have a really good season. Stuff goes in and out, so you can never really replace good stuff like that.

So, you'd say, John Taylor, formerly of Duran Duran and now John Taylor solo fame, you'd probably had a better career than Frankie Goes To Hollywood then?
Yeah, I would say so. I mean, I always thought that what killed Frankie was having to play "Relax" on perhaps a thousand European TV shows, having to play, er, mime to that song. They were having to promote that one song for what seemed to be like eighteen months. I think that would have been enough to kill anybody.