Ahh, well, I don't think so. I've been very fortunate you know. First I got Roger & Me out there, then TV Nation, two summers of TV Nation, we won the Emmy award, and now my book just went on the bestseller list, Downsize This!
Canadian Bacon, didn't they kind of screw you on that? Because, that was a great film. Did it even get an official US release? Like Orsen Welles, he was kinda screwed. Are you like Orsen Welles? Canadian Bacon, could that have been an Orsen Welles film?
No, I don't think so. They did this market research with Canadian Bacon, the US company, and their test results told them that people didn't want go laugh at a film with a guy who had died. Namely, John Candy. So, because of that, and because they felt that Americans would think that the film was too anti-American, they did not give it the proper distribution in America.
How much influence do these movie executives have? Did they force you to hire Karen "MTV" Duffy? What was she doing on there, what was she doing on TV Nation?
What are you? You know, this is a prime example of people who drink too much coffee here in this part of the country. You know...
Karen "MTV" Duffy! Why was she there? Louis Thereaux, he was way better. How, how, how many hours a day do you spend at Starbucks, sir? You've got to calm down. Karen "MTV" Duffy! What's the explanation behind her?
What do you mean "What's the explanation behind her?" Look at her dammit, you know, she's great. What are you talking about?
How can you single people out? Isn't it kind of scary to single these executives out. I understand you're going to be picketing outside of Nike. Isn't it dangerous? I mean you're targetting these people, these people killed Kennedy, Michael Moore. Aren't you a bit worried?
(laughs) Okay, I'm convinced now, it's not coffee, it's crack. The guy is on crack. What was the question? I forgot the question.
The question here was: Roger Smith was a bad guy. Roger was a bad guy. Does that make Bill Gates a good guy, because he's hiring lots of people? Bill Gates, the computer age, is he a good guy Michael Moore?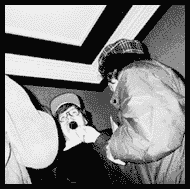 Bill Gates is the anti-Christ.
But he's hiring people.
No, he's the anti-Christ. The anti-Christ will always come, it says it in The Bible, in Revelations, Chapter 6, Verse 3.
But, but...
No, no, listen. I'm giving you a Bible lesson dammit, listen to me. You know, Bill Gates, he's come here to hire a lot of people, and to shift the technology into a situation where he will rule the world. He will rule the world. Do you understand?
Roger & Me. Don't you think that it was better than Canadian Bacon? Was Roger & Me better than Canadian Bacon, Michael Moore?
Roger & Me was better in Canadian than it was in English.
Are they forcing you to comedy? You're writing sitcoms now. Are they trying to dull you? You know, like Matt Groening, he did Life in Hell and it became The Simpsons. Are you going to end up that way? Please don't do it, Michael Moore. Don't give up...
You don't like The Simpsons?
No, it's been mellowed out since Life in Hell. Remember? Matt Groening did Life in Hell and now he's off to...
Oh, man, Life in Hell sucked, man. Life in Hell sucked. You couldn't even read the damn thing.
Are they trying to mellow you out? By doing TV Nation and now you're doing Canadian Bacon, now you're writing sitcoms. Like, please don't give up, Michael Moore. They're pushing you into that home...