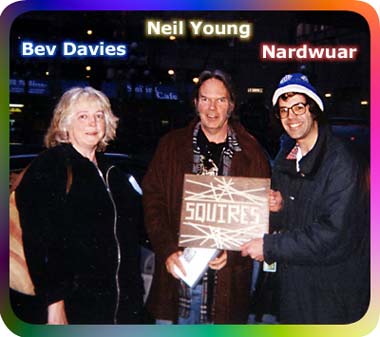 1 March, 1999!
Neil said "No way" to an interview but let us take this picture.
FULL STORY BELOW!
"On the Great Canadian Shield, where the Bear and Bison Blow
There once was a man, Neil, he used to be a Squire
Aurora backed with The Sultan was such a great song
Better than anything Dinosaur Jr. ever covered!

You played sock hops, armories and legions with such zest,
C'mon guy, you know the Squires were the best!

Your Dad wrote sports for the Globe and Mail
Rick James played with you in the Mynah Birds
But did you know that Chuck of the Young Fresh Fellows once met you at a urinal in Cotati?

Hey Neil, were you a Reagan supporter in 80?
I still want to meet you -cuz you were a Squire!
I chopped down the Palm Tree, and it landed on his Back!"

---Winnipeg '64, The Evaporators
I'm quoting my own band, to help illustrate this stupid obsession I have to interview a fellow Canadian. A fellow Canadian that grew up in Winnipeg alongside, Randy Bachman, Rowdy "Roddy" Piper, Monty Hall and the guy that invented K-Tel. A fellow Canadian named Neil Young.
When it was announced that Young would play Vancouver, BC's Queen Elizabeth Theater to kick off his solo acoustic tour , I immediately "rocketed" into action ! Realizing I had no chance in hell of getting an interview with the "Man", I contacted the Vancouver Sun Newspaper for help! They suggested that an article ON me wanting to get an interview with Neil Young might , well, get me an interview! Writer Kerry Gold of the Vancouver Sun undertook the task that produced the following byline:
Interview hound on scent despite Neil's 'never': Neil Young's publicity manager says the rock star will "never, ever" give the Vancouver gonzo journalist an interview, but Nardwuar is dogged in pursuit.
---Vancouver Sun, Feb 27 1999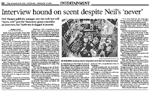 Click HERE To View Article!
After the Sun piece appeared, I diligently faxed it to Bob Merlis, head of publicity at Warners, and, Eliot Roberts , Neil Young's manager. Not surprisingly nothing was heard back from Young HQ and before I could say "keep on rocking in the free world!" it was the day before the gig. As I contemplated my next move, the phone rang! It happened to be anonymous tip from someone (a local writer) who had read the Sun article about my obsession to interview Neil Young! The caller said Neil was chowing down, at that very moment, in a downtown restaurant! I was out of the house in four minutes!
But before I left the house I called my friend, photographer Bev Davies, perhaps the only person to ever photograph both The Barbarians and The Pointed Sticks. I just had to include her in the action! Why? Bev actually knew Neil Young from her time running the Cellar Club Coffee House in Toronto where Neil used to play in the mid-sixties. She also lent Neil her sleeping bag, on the eve of his famous 1966 hearse-powered road trip from Toronto to California , but never got it back! This is something I definitely wanted to ask Mr. Young about.
Arriving at the restaurant we spotted a limousine parked out front of the main entrance with it's engine running, and passenger door wide open, all ready to obviously receive a Canadian rock icon! Then seconds later the front door of the restaurant popped open and it was Neil, walking quickly with his head down towards the limo. His manager Eliot Roberts was in tow. Bev then shouted "Neil!". Neil looked up, stopped in his tracks, and quietly said "Bev?". The two then hugged. Man, this is getting gushy! However, Bev did not let the moment overcome her (although she said Neil's frilled suede jacket felt incredible!) and asked Neil if "Her friend Nardwuar could do an interview?" "No way," Eliot Roberts and Neil Young both chirped simultaneously . I then jumped in, "Neil! Hi! I'm Nardwuar! Please can we have an interview? Please? I once told Mikhail Gorbachev to 'Keep on rockin' in the free world!'" No response, only silence. Neil then moved even closer to the limo door as I pleaded, "Neil, I brought this for you --A Squires sign!". Oh yeah, if you haven't guessed it by now The Squires were Neil Young's first band, and their sole single released in 1963 on V Records, "Aurora" b/w "The Sultan" is perhaps the most collectable Canadian single ever. A few weeks earlier, Evaporators drummer Scott Livingstone had made said Squires sign off a picture included in the book "The Story of Neil Young and the Squires" by John Einarson. I had thought that it might freak Neil out since it was an exact replica of the Squires logo he proudly wore for three years. And I was right! "We once had a drum head like this," Neil uttered. I then shot back "Keep it! But can we please, please, at least get a photo with you Neil? My band also covers your tune Vampire Blues! And here's a videotape of us performing it!" Out of the Blue, Eliot Roberts swooped down, grabbed my camera and took a photo of Bev and myself beside Neil Young. Next thing I know Neil's in the limo and driving off. Damn. And I didn't even get a chance to ask him what happened to Bev's sleeping bag!