Are you going to come to Vancouver, BC, Canada? How come there is no Vancouver gig? I am phoning you from Vancouver.
Yeah, you know, that's strange. I've been asking myself that same question.
I was just thinking, it would be a great place to play, because on the song "Kill All Hippies," from your new LP Exterminator, you guys sample Dennis Hoppers' movie "Out of the Blue"-
Yeah man!
-and that movie was filmed in Vancouver.
Superb. Yeah, well it's ah, right, we should come and do it for you, man, you know?
Do you remember the band in the movie, "Out of the Blue" at all, Mani? You've seen the movie, haven't you?
Yeah, but it's been a long time since - are they a local Vancouver band?
Yes, it was the Pointed Sticks, they played the song "Somebodies Mom" in the movie, and they were actually signed to Stiff Records in 1980, flew over to England, and even recorded with Nigel Gray, but their album never came out on Stiff, 'cause there was something about Nigel Gray not liking them too much.
Oh, right, weird one, man. That's strange.
How into punk were you, Mani? How punk were you back then in the day?
Well, I was an original 1977 punk, man, you know, I sort of still carry about a little bit of the punk spirit in me heart anyway, man, you know, you can never lose that part.
Did you ever see like Slaughter and the Dogs, the Drones-
Yeah, Slaughter and the Dogs were my favourite band, mate. I've seen them plenty of times. The Buzzcocks, uh, everybody man, GBH, Discharge, the Clash, everyone barring Pistols.
Were there many punks from your hometown, Failsworth, at all?
Shitloads, mate. Absolutely heaps of them. Yeah.
Any other bands? Like you mentioned Slaughter and the Dogs....
Yeah well, there were some other guys who have made it from Failsworth who have been famous, me mate Simon Ryan ended up playing drums for AC/DC. And then another friend of mine, Darren Warren ended up playing keyboards for Thin Lizzy, man. So, they pump the odd good musicians out. And there's a band out of there right now who are called Pure Essence who are doing quite well.
So, back then, Mani, were you wearing brothel creepers and drainpipes?
Nah, I was a tartan bondage pants man, and Dr. Martens black boots.
That's when you were hanging around Ian Brown a lot. Was he like a full-on Mod scooter gang guy?
We all kind of had Lambrettas you know from mooching around. He was more just of a scooter boy than a Mod, I'd say. He was always up on his northern soul music, his Motown, things like that, you know?
Was he into like The Squire, and the Jam, and the Prisoners and all those-
Yeah, I reckon everyone's done a bit there. The Prisoners were a good band in all, you know.
Is Ali-G, the punkest guy in England right now? Mani, of Primal Scream? Oh man, he's dope. I'm telling you it's so clever 'cause it's a Jewish kid pretending to be an Asian, pretending to be West Indian kinda thing. He 's a funny guy, man. He's completely unique, man.
Do you think Mani, that the Happy Mondays are as talented as they think they are?
No way, man. Ha ha ha. No, but good friends of mine, the Mondays boys. But uhhh, they leave a lot to be desired about musicianship and what have you, but they just live to party, you know?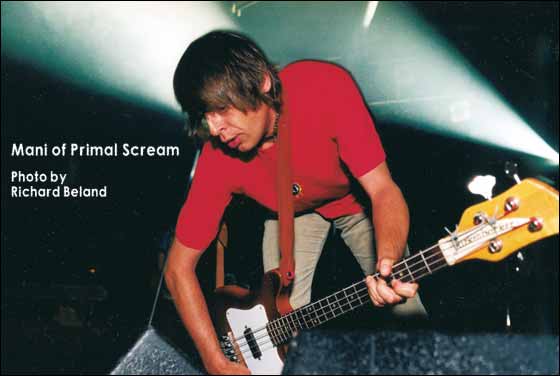 Is it true that Mark Day from the Happy Mondays now sells encyclopedias door to door in Manchester?
Well, that's a story that I heard, man. (laughs) Yeah. I don't think he wanted to be in music anymore. I think he'd just been completely wore out by it.
Mani, Is Manchester still known as "Gunchester"?
Yeah, there's been a real upswing in the gun thing again recently but the thing is with Manchester it's a cool place and you just don't see it. I think you've got to be living in that world to experience it, you know. But there's people getting shot dead and all that again and it's disgusting you know, and I think it's just cowardice, you know.
Playing in Manchester with Primal Scream, have you had any celebrities come out to the gigs? Like has Curly from Coronation Street come out-
(laughs)