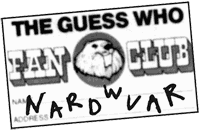 Who are you?
Who am I? Sometimes I wonder.
You are Randy Bachman.
I'm Randy Bachman.
I saw you profiled on the TV show The New Music and they said that The Guess Who started in 1965, but it didn't start in 1965, did it?
Well, that's when the name started, in 1964, when Quality Records changed our name…. First we were Allan and the Silvertones; that had to be 1961 or 1962, I forget exactly. But that name was really old hat and we wanted a new kind of British sounding name. So Allan Kowbel changed his name to Chad Allan, after Chad and Jeremy. We had the name the Reflections and we basically wanted to be like Cliff Richard and the Shadows. So we thought "shadow" and "reflections" so we were called the Reflections. Sometime in the early 1960s we got a letter from a lawyer in Baltimore saying that he represented a band called the Reflections and they had a hit called "Just Like Romeo and Juliet" and we had to change our name. So we changed it from the Reflections to the Expressions. We had so many name changes in there that I think the record label, when they heard the song "Shakin' All Over," said that this is really great but these guys don't even know what their name is yet, we're going to put "Guess Who" on there. And they did, and then suddenly that record was a big hit and everybody was calling us "Guess Who." All we could do was put a "the" and be called "The Guess Who."
And who knows, you could have been a British group!
Well, that's what they thought we were. That's why that record was a hit. A lot of people played in on radio stations, saying "Here's a band called Guess Who, we don't know who it is, and it's called 'Shakin' All Over'." And they'd play it. And I'd phone the radio station — I mean, this was in Winnipeg — and say, "That's us! That's us! It's Chad Allan and the Expressions." And they'd say, "Yeah, sure it is." They didn't believe it was us. But sooner or later, after a while, they did, because it was all in the newspaper.
You seem to have had a really big British influence. Was this fueled by Wayne Russell, a record collector in Winnipeg at the time?
It sure was. The minute I joined Allan and the Silvertones, which became Chad Allan and the Expressions, and then The Guess Who, he had this friend named Wayne Russell, who had a cousin somewhere in England. I don't know where. He would tape records onto an old reel-to-reel tape recorder,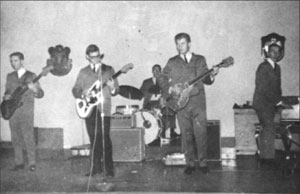 and two or three times a year, Wayne Russell would get a couple of singles and a big seven-inch reel-to-reel with hundreds of songs off of the British hit parade. We couldn't buy these records; we couldn't even hear them. But we would go to Wayne Russell's house and listen to this music that had already been in the Top Ten in England, so we know it was good music. And people liked it, and we wanted to be different, and we weren't really writing our own material yet, and even if we were, it was very adolescent, very young. It didn't have the maturity of a good songwriter yet. And every time we would do an American song, it would be covered by a British band. Old Little Richard, Larry Williams, were always done by the British bands, and we wanted something to make us unique and no one was copying or doing British material. So we started to do it. And that right away gave us an edge. We were different from any other band in Winnipeg.
It must have been totally weird playing Beatles' songs and stuff like that to audiences who had never even heard of the Beatles, the Dave Clark Five....
Well, that's true, and a lot of times, people… I remember many, many, many months or a year later, after we had been playing that music in Winnipeg, people came running up to us saying, "We heard your song on the radio." It was really the Beatles, but they had heard us doing some of that music a year or even two years before it came to Canada and the States, because we would get it the minute it was released. We were doing Cliff Richard and the Shadows and all that early Beatles stuff years before it was common in the radio stations and for people to buy in Canada and the States.
"Shakin' All Over" was recorded at CJAY television studios, but you also recorded at Wand Records, or you were associated with Wand Records in New York. What was that label all about? I know they had the Kingsmen.
Well, Quality Records used to basically lease American records. Quality was really cool in Canada because they had Quality Records, the Regency label and Reo. And they would release all the stuff from Chess — all the Chuck Berry and Bo Diddley stuff — and later they started to lease some stuff from Sceptre. So Quality contacted Sceptre Records, and they said, "We've got a number one song in Canada, "Shakin' All Over" by the Guess Who." And Sceptre said, "We'll lease that from you and release it in the United States." So Sceptre Records had two labels in one office — the other label was called Wand Records which had the Kingsmen. We were put on Sceptre which also had Dionne Warwick and Maxine Brown. We went right to Sceptre studios which was at 254 West 54th Street in downtown New York, and we recorded there on four-track. The Kingsmen were there. We met Phil Ramone who was a young engineer there. And we met Dionne Warwick, and Burt Bacharach who used to come in wearing a leather jacket and jeans, and play his songs for Dionne Warwick. And while we were recording at Sceptre studios, they brought in young songwriters to play us their songs because we still weren't fully developed songwriters yet. And I remember they brought in three black kids who actually played hookie that afternoon from school — they were still in high school. It was Nicholas Ashford and Valerie Simpson and another girl, and we did one of their songs, "Hey Ho What You Do To Me" which became of a Guess Who album and a pretty big hit for us. Ashford and Simpson went on to write "Ain't No Mountain High Enough" and all these hits for Diana Ross and all the Motown hits. They turned into be really really big but we went way way back —1964 to 1965 — with them.
What was it like touring the eastern States back then?
The eastern seaboard then was beautiful white beaches and great big boardwalks with amusement park rides. It was a really big place to go in the summer. However, when our record was released in the States on Sceptre Records, they didn't put a picture of The Guess Who on the front. They put two black people dancing, a black guy and a black girl dancing. I remember our first gig was in Washington, DC. This was just before our tour with the Kingsmen, Sam the Sham and the Pharoahs, and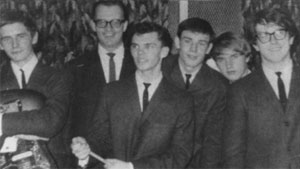 Dion and the Belmonts. We just drove up in our own station wagon to a high school in downtown Washington, DC. We were the only white guys for blocks. This was a totally black high school. They actually had a guard at the door, a guy in uniform like a cop. He came to the car and said, "What are you doing here?" We said, "We're supposed to play a dance after school." He said, "You've got the wrong school. This is a black school." We said, "We don't know black from white. We're from Winnipeg, Manitoba, Canada. Can we see the principal of the school?" And the principal of the school came out and said, "Are you The Guess Who?" And we go, "Yeah." And he says, "You're supposed to play our sock hop after school but you guys are white." And he's saying this in a black accent; I can't talk like him. And I said, "Well, we're here to do the gig. We play the song "Shakin' All Over."" And he said, "Well, come on in." And we went and played it and it was a big success. But that was our first exposure to segregation.
You recorded at Kay Bank Studios where the Trashmen recorded!
Yes, we did. We were starting to hear records by the Trashmen and the Fendermen. I said, "Wow, listen to this record!" This has got echo on it. This has got this and that. And it was Kay Bank Studios. So I went to the library, the Winnipeg Public Library, and got the Yellow Pages for Minneapolis and I phoned down there to Kay Bank Studios. I asked to talk to the engineer who had worked with Dave Dudley, the Trashmen and the Fendermen. And the engineer actually came on the phone. He said, "Hi, my name is Tommy. We record on three track. We put all the drums and bass and rhythm guitar on one track, and the vocals on track two, and on track three you can do little shakers and percussion and do your solo piano and solo guitar. Then we can go and rebalance them later on." So I borrowed my girlfriend's father's car, and my Uncle Jack's trailer, and jammed everything in and drove from Winnipeg to Minneapolis in the winter. That's where we started a whole new era of The Guess Who, recording on three track. That was just the tail end of Chad Allan and the beginning of Burton Cummings.
Was that the It's Time album?
Yeah, we tried the song "Clock on the Wall" and "And She's Mine." That was all recorded at Kay Bank Studios.
And thee amazing definitive song by The Guess Who called "It's My Pride."
Yeah, that's a cool one.
There was some neat fuzz bass on there.
Yeah, I invented this thing with Gar Gilles. We didn't know what to call it. I think we called it The Stinger. It was basically for guitar. I said to Gar, "Why don't you put one on a bass amp and Jim Kale will use it?" I was presenting this song to the Guess Who before we went down to the recording studio, and I said, "Look, instead of a guitar solo which I always do in every song, Jim, why don't you just plug into this new thing called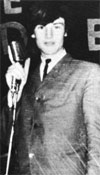 The Stinger and play a bass line and it will be like a bass solo, and we will have tom toms under it, and it will just be something different?" So Kale was really into doing that. And going back listening to that stuff, that song really stands out. It had a real unique drive to it and it really stands out today.
What was Burton Cummings' first band The Deverons like?
I would liken them kind of to the McCoys. They were all very young, like thirteen, fourteen, fifteen whereas us and The Guess Who were like sixteen, seventeen, eighteen. And they looked up to us as the best band in Winnipeg. We looked up to them as the new young band that was hot on our heels. They were all good players. They did a lot of stuff like "Hang On Sloopy"; that was Cummings' big song then by the McCoys. They did alot of Eric Burdon and the Animals songs.
They got signed to Reo Records. That was really interesting. Wasn't Reo a major label back then?
Well, Reo was the sister label of Quality Records. Burton Cummings had come to us — I lived in the same north end of Winnipeg that Cummings did — and said, "How do we get a record out?" And I said, "Well, you go and record it." And so they went to the radio station CKRC and recorded some songs with a guy named Darryl Burlingham who's been in radio for years in Vancouver known as Darryl B. He was kind of their mentor and recorded them. I either sent a tape for them to Quality Records, but we didn't want them to be on Quality because that's what we're on. So it came out on Reo Records.
"She's Your Lover" is one of the songs on there. That's a great tune.
Yeah. "Blue Is The Night," the B-side, was a big hit in Winnipeg.
At one point you had two Deverons in The Guess Who, didn't you?
Yes. There was a time when people were used to seeing The Guess Who as a five-piece band and we missed the other guitar playing of Chad Allan. And until I learned to teach Burton Cummings how to play the guitar, we had missed the rhythm guitar in our band. So we got Bruce Decker to play rhythm guitar; he was only with us for a summer. He didn't work out; he really didn't like the travelling because we travelled extensively. We were really dedicated. Where ever we had to go to get our music to be seen, we would get in our car and drive three thousand miles to Texas for a weekend and come home to Winnipeg. Whenever we got a phone call we went. But Chad Allan didn't like a lot of that. Neither did Bob Ashley. Neither did Bruce Decker. They thought we were kind of crazy, and they left the band.
Wasn't Bruce Decker pictured on the cover of the It's Time album?
Yeah, he is. He's in the tree with us.
For a time, Chad Allan and Burton Cummings were both in the Guess Who.
Yeah, we were incredible. It was about six or seven months when they were both in the band, and we did somerecording. At that time, with the five of us being in the band and the two of them being such excellent singers, we could do any Beach Boys, Hollies, Beatles, Animals… we were the best hit parade band going. It even started to show up in our original material; it was very, very strong.
When you went to England in 1967, you actually met The Who? The Guess Who met The Who?
When we went to England, one of our main purposes was to go there and tell them to stop using the name "The Who" because we were The Guess Who and it was getting very confusing.
What did they think of some nice prairie boys saying, "We want to keep the name."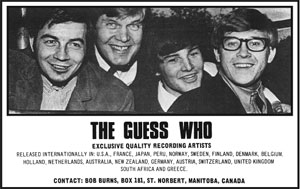 It was really funny. We went there — The Guess Who… we took a couple of friends — Terry David Mulligan went with us. He was a DJ in Regina at that time, so we've known Terry a long time. He came with us; he was just starting his interview career. We were walking down the street and we hear this noise coming from the Marquee Club at 3 in the afternoon. They don't open until late at night. The Who were taping a song for German television. They were taping "Happy Jack." They were not letting people in, but because we had Canadian flags on — they hate Yanks but they love Canadians — we got in. And there was The Who: Entwhistle, Townshend, and stuff. We say, "We want to talk to you. We're The Guess Who from Canada." And they say, "Oh, we want to talk to YOU." So they say, "Sit at this table." And we sit at this table innocently and these guys crank up an entire wall of Marshall amps and blow our brains out. They were doing "Happy Jack" so loud, the cameras were saying "Cut! Cut! Cut! Stop!" They were playing so loud, they were vibrating the film in the cameras which was making it blurry. They did take after take after take after take. This went on for an hour and a half. Our ears were totally blown. We were hearing high pitched ringing in our ears because we were sitting in front of Entwhistle and Townshend's amps. After the whole thing is over, they come and sit at our table. Everyone's drinking orange juice or something. They say, "So, what do you have to talk about?" We say, "We're The Guess Who. We've had this name since 1964. And we'd like you to stop using the name The Who, because you guys used to be called The High Numbers, so why don't know you just go back to being called The High Numbers?" Townshend gets up and leaves the table. Entwhistle looks at us and says, "Aww, piss off." And they get up and walk away. And that was it.
So the "Piss off " was a nice "Piss off " then.
Yeah, they always say that in England. Women say that to guys. They also say "Bugger off " which doesn't have the strong connotations that it does here.
And your name Randy Bachman itself has different connotations in England?
Yeah. I would go on television there in 1967 and I went back in 1969 with The Guess Who; we did "American Woman" on Top of the Pops. Then, you never said your last name. It was "I'm George," "I'm Paul," "I'm Ringo." So they were introducing us on Top of the Pops and the host says, "Would you please introduce yourself?" So, it was "Hi, I'm Burton," "Hi, I'm Jim," "I'm Gary," and "I'm Randy." And entire place bursts out laughing. The host says, "We probably know you're randy, but what's your name?" I say, "My name is Randy." And they go crazy because randy there means like horny, you know. And they still use that word to this day, but luckily there are more Randys there now, like Randy Meisner, Randy—
—Rhoads!... What inspired you to write in the song "The Guess Who Blues" specifically ,the line about Terry David Mulligan "TDM, don't dig him no more"? Did Terry do something wrong?
Cummings and Mulligan would always have fallings out. They still do to this day. They're hot and cold friends. When we played all these gigs in Regina, we'd play these Indian reservations and we'd see Buffy Sainte Marie there; she was a young chick then. We'd play the Qu'Appelle Valley and stuff. There would be three or four girls there who would come to every show there in Wainburn, Estevan and Regina and stuff. We didn't know their names at all so we used to call them "They Came," as in "They came to see us." At a dance, Cummings and Mulligan both had their eye on one of these girls from "They Came" — I forget her name. Mulligan had more of a chance to dance with her because Cummings was on stage with us. So Cummings didn't like Mulligan at that particular time.
Winnipeg — I love Winnipeg. Monty Hall was from Winnipeg. The inventor of K-Tel was from Winnipeg. What are some of the unheralded '60s combos from the Prairies that didn't get much attention?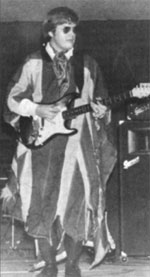 There were some from Winnipeg that were just incredible. The Jury, Ronnie and the Vaqueros, Donny and the Footprints, Satan and the D-Men, and The Quid. The King Bees from Edmonton, the Checkerlads from Regina. just incredible bands there, literally hundreds of bands. I think Toronto was the same. You know, I always say that I'm one of the lucky ones because everybody there was just a guitar player who wrote songs, tried to write songs and sing and play, and I'm still trying to do that. It seems some get lucky... it's just the way things fall. It's funny the way fate takes you through life.
Do you remember a band called Four Wheel Drive that did all BTO covers?
Yeah, I had heard about them. I went and met the guys. They later evolved into Tankhog. They were a real good grunge rock band. There was one guy who actually did me, one guy who did Fred Turner. They went out and emulated us. They called us later, and said, "We're not making fun of you. We are really paying tribute to you guys. We really think you did a great thing for Vancouver, and Seattle because we had recorded all of our stuff in Seattle [at Danny Kaye's studio] in the early '70s. We were the beginning of the Seattle sound that faded away and later came back fifteen, eighteen years later with Nirvana and Pearl Jam. We were the guys who brought that guitar based rock 'n' roll to that area.
What do you think of the Butthole Surfers' version of "American Woman"?
I think it's kind of neat. I see some humour in it. I mean, even their name is humourous. I get a great kick out of hearing cover versions of songs that I've written, how somebody else interprets it and takes it to their own level of music, be it lower than I did or higher than what I planned musically.
When you were on tour with BTO, did your bandmates ever play tricks on you? Didn't one time Robbie Bachman have off-duty cops arrest you in your hotel room?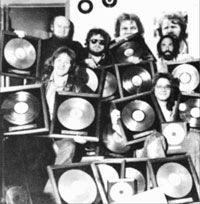 Yeah, that was pretty scary. It was somewhere in Indiana or Illinois, somewhere in the Midwest, and we were all heading out to get in our car to get to our gig at a big state fair; we were being paid a lot of money and there were forty thousand people. As I got out of the hotel, a police car pulls up and I think nothing of it. Two cops get out and they start walking towards me, and I still think nothing of it; I was thinking they were going into the restaurant of the Holiday Inn. They say, "Are you Randy Bachman?" I say, "Yes." They say, "Would you please get up, put your hands on the car and spread your legs?" And I say, "What?!" They say, "You heard me. Lean against the car. Spread 'em!" I say, "You've got to be kidding! I have a bag in my hand." I always carry a bag with a bandana and a brush — I always wear a bandana on stage, like a sweatband — and had deoderant for after the gig. They put my hands behind me and put handcuffs on me. And they say, "We want to cite you for a violation." Meanwhile, Robbie had a video camera — he always films everything. He's filming this whole thing. I'm thinking, "Well, this is a mistake. This is really cool. I have this all on film." Because once before I was arrested in New Orleans and Robbie has it all on film and it's a real kick. I made a left turn in New Orleans; you get arrested for doing that. These guys say, "We have a warrant for your arrest. You received a speeding ticket in 1983 and you failed to appear before the judge." Because not only do you get a ticket in the state, but you drive out of that state because you're on tour; you never go back there. They say, "The penalty was $900.00, and with the accrued penalty and interest, you now owe us $14000.00. This must be paid immediately or we're going to lock you up." I say, "Wait a minute. I'm going to a gig. There are 40000 people waiting. I don't have any money. I put in the bank every morning." And they say, "Well, we have to take you to jail. It's our job." The rest of the band is standing there with this look on their face — they don't know what's going on; Robbie is filming this whole thing. I say, "Lookit, please, please, please. Take me to the state fair. I'm being paid tonight. I'll get all the money and I will give it to you." So they throw me in the back of this car, which is really tough because it has a little back seat and you have handcuffs on your hands and they're wedged behind your back. By the way, it's 103 degrees and I'm in the backseat with no air conditioning. I'm in the back of this car handcuffed, and I'm thinking, "What is going on?!?!?" They drive me to the state fair; the band is following me behind. The siren's going and the lights are flashing. We get to the state fair and I go to the promoter and say, "You've got to pay me the money right now. I've got to pay the cops or I can't go on stage. You pay me right now and I will straighten this all out later." And at that point the cops start laughing. And I figure, "Why are these guys laughing?" It was weird. It was like watching Cops on TV and then suddenly they burst out laughing. Robbie starts laughing and falls down on the floor. The cops say, "Gee, you're really a good sport." As they unlock my hands, they say, "This was just a joke put on by your brother." And here Robbie was taping the whole thing.
Did you ever think about getting back at Robbie?
No, I let the thing go. Every time I see him, I ask him for a copy of it. He was going to send this thing in actually to Ed McMahon and Dick Clark's Bloopers on television but then the show went off the air.
What was it like playing for convicts at Matsqui Correctional?
Yeah, Matsqui. We played there once. We did a Jailhouse Rock with D.O.A. out in Prince Albert, Saskatchewan about seven or eight years ago. Now, that's pretty weird. I mean, talk about a captive audience! They can't go anywhere. They had a chance to vote apparently for whoever they wanted to come and entertain them, and their top two votes were BTO and D.O.A. MuchMusic decided to record it and they called it Jailhouse Rock. It was really a cool thing.
Wasn't there some famous incident between REO Speedwagon and BTO? Didn't the BTO manager once kick REO Speedwagon off tour?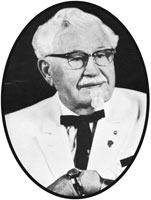 Randy, I was wondering: What is the Kentucky Fried Rat Story?
What?!
The Kentucky Fried Rat Story.
Where'd you hear that?
The Kentucky Fried Rat Story.
Uhhh, that's a story C.F. Turner told. He was with this band when it used to be called Port Arthur. Was it Port Arthur? Fort Murray? Ooh, I forget. In Thunder Bay. The Lakehead. That's real safe. And uh, he ordered a bucket of chicken for his band. And they were eating, and he took a bite and thought, "Gee, this is weird." And he looked at it and it was a mouse! And they went back to the—should I say it?—the KFC place and complained. There were little pipes in there and the mice would run around and sometimes some would slip and — whoops! — fall in the batter! And so he actually ate a half of a Kentucky Fried Mouse!
Did the Guess Who used to have lobster eating contests at King's Table restaurants?
Oh, yeah. Where'd you hear all these things?
Oh, just wondering, Randy Bachman. Lobster eating contests in BTO?
You know, when you're from Winnipeg, you only hear of lobster. You never get any, right. So we grew up in Winnipeg, and during our first trip to Halifax, the promoter had a little lobster fishery thing. And he said, "Do you guys want lobster?" This was with Burton Cummings and us. And he just took us to the beach and they were just bringing them in and they just threw them in a pot. The tour was sponsored by Coca-Cola so we had cases of Coca-Cola and literally dozens of lobster. And it was first time we really had fresh lobster, being from Winnipeg. And we ate until we got sick. What can I tell ya?
Did you ever get kicked out of a King's Table at all, kicked out of one of those all-you-can-eat places, Randy Bachman?
Uhhhh, no. No, they love us in there. We'd clean up the place!
You know how alot of your records were released in Japan? What are the lyric translations like? I've heard that they can be pretty odd. Like "Let It Roll Down The Road" turns into "Take A Chance On The Old Saxophone."
Umm, it's hilarious. When you go to Japan, you buy your album and you pull out the lyrics, and you've even put in the English lyrics, I can remember "Roll On Down The Highway." It was "I Rented A Duck And A Hemi A Go" instead of "We Rented A Truck And A Semi To Go." It is quite hilarious the way they translate it. That's about all I remember.

All right, Randy Bachman. Doot doola doot doo...
Doot doo!
There was one like that and there was one with Aerosmith. Okay, we were pretty hot. Our first album was out; our second album was out; we had "Let It Ride" which was a hit. "Takin' Care of Business" was a pretty good hit. So we were kind of headlining and we're getting these midwest opening acts who are REO Speedwagon, Styx, Aerosmith, Frampton… trading bills with ZZ Top, the Doobie Brothers, things like that. So we're in the dressing room after about a week on tour and REO Speedwagon's our opening act. We hear the crowd cheering. And sometimes when you're in the dressing room, there's a little speaker that you can hear what's going on on stage. So we can hear the show going on. In the middle of a song, I hear this guy stop, and he does a guitar solo just like me, tapping his guitar with a drumstick. He's copying me; this is the thing I did way back in Friends of Mine. Then he starts to pick up the song and he starts to yell, "I wanna hear you make some noise!" This was MY line from "Takin' Care of Business." So I said, "Bruce Allen, listen to this! They're doing all of our schtick! How can we go up there? We're going to be a retread." These guys have stolen all of our crowd, and all of our let's-get-the-crowdgoing antics. After their set, they go back to the dressing room and we're getting ready to go on stage. Bruce Allen goes out of his mind. He walks up to their door that is closed, he kicks it in like a cop, and he goes, "You guys are fired. You're off the tour. You're copying Randy and these guys. Can't you do anything more original than that? You're off this tour." That was it.
Randy, say goodbye.
Goodbye!
For more info, please consult: Einerson, John. American Woman: The Story of the Guess Who. Kingston, ON: Quarry Press, Inc., 1995. (address: P.O. Box 1061, Kingston, ON K7L 4Y5)