So, Tommy, a few years ago, there was a quote from the Motley Crue camp - I don't know if it was you or not, but, "Keyboards and porno soundtracks should be thrown in the garbage."
Oooh.
But now your doing it in Methods of Mayhem!
Yeah, but those aren't keyboards. These are synthesizers!
But you had Scott Kirkland of the Crystal Method on doing vintage keyboards!
Yes sir!
And you had the "Get Naked" video!
Mm hmm.
Now, with Stephen Perkins on drums there, are you going to be drumming WITH him? Is it going to be like dual drums right up front?
Mmm, yeah, it's fucking insane! Like, it's not your typical, like, "Okay, here's your...." - it's not like your typical two drumsets sort of uh, you know, split apart, like we've all seen before. This is one toxic looking fucking insane, uh - it's a very large drumset, one large drumset that two guys sit inside this pod, if you will.
Tommy, where do you come up with this stuff? Like in Motley Crue you had that caged rotating drumset. Was that thing made by NASA?
Uh, no it wasn't. It was made by uh some people at a company called Show Staging, but it was my idea, and me and this sort of hydraulics specialist called Chris Peters uh we just sort of started dreaming about what it would be like to fuckin' have the drums spin around upside down, and we did it!
From the hard streets of Covena, California to Methods of Mayhem! "Wassup G!" Snoop! Snoop! I can't believe it! Snoop Doggy Dogg. Tell me about Snoop! Snoop! Like, recording with Snoop! That's incredible!
Yeah!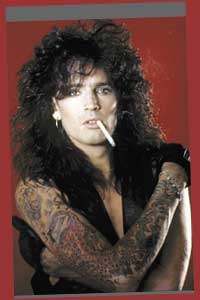 What's that like, Tommy!? What, -was there any Snoop moment that you remember?
Mmm mmm.
Like when you first came into the studio there!? Did he tell you any good Dre stories?
Um, any deranged stories? Uh, well, other than the fact that Snoop Dog smokes more fucking weed than I have ever seen on the planet. Uh, pretty mellow, like nothing, I couldn't really recall any crazy moments. Really like a lot of fun, creative, like, you know, we were getting high on the fucking music, you know what I mean? More like that, more than anything, really.
Tommy Lee of Methods of Mayhem, Anger Management: "I don't believe in the Public Eye seems like 24/7 being watched by a spy. Their not news reporters, they are full of bullshit!" "Being watched by a spy." Now, I was wondering, it was reported a couple days ago that you got kicked out of your house with Pam, but you have said, you were not. Then yesterday, there was a news story on the newswire. I don't know if you saw this or not, "Tommy Lee and Wife Face Dog-Bite Lawsuit."
I know! I saw that!
"Tommy Lee and his wife Pamela Anderson are headed back to court, this time over their pet Rottweiler. A woman is suing the couple, claiming she was bitten by the dog during a 1997 visit to the couple's home near Malibu." Like, a dog bite lawsuit! What the hell! is going on here!?
I don't know.
I was curious, Tommy Lee, were you unknowingly - unknowingly!? - set up perhaps by a record company to help generate publicity for the upcoming Methods of Mayhem tour? Like, are they pulling these people-
Label Rep: Absolutely not! (laughs)