You had never gone up on a big stage when he was performing and danced?
No, we've danced together in private but we've never danced together in public. I was in one of his videos, uh, I was in the "Liberian Girl" video from the Bad album.

You've danced together in private - you mean, where would that be, in a club?
No, like in a mirror, you know. We were trying out different moves and things like that.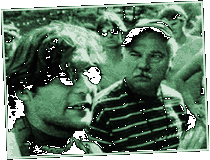 (reads Corey's lyrics) "Is this cool? : People try to put you down, 'cause you're not what they found as cool. Desperate eyes search around to place the blame on a clown like you." Corey Feldman, what exactly is your relationship with Marilyn Manson?
(laughs) That was a great segue! Uh, man, I'm getting more entertainment out of this interview than I think anybody's who's going to read it! Um, well, Marilyn Manson is, well, he's Marilyn Manson for God's sakes. I mean, it's pretty self-explanatory. He's a guy who, you know, likes to take advantage of other people's weaknesses by making himself look as good as possible, but in the end I think it's just biting him in the ass.

Because he seems to joke about you all the time, Corey Feldman, calling you lame and stuff, but you always seem to be around when Manson's having a big bash!
Well, no, well actually I went to one of his events.

And this was after he called you lame and stuff?
Uh, what happened was, we met at the Howard Stern premier, and he was very nice, and he talked very kindly of me. As a matter of fact, he was on Howard's show right after the premier, and he said that one of the most exciting things of being there was getting to meet me and how he was a big fan and blah blah blah. And what happened was, um, he, he, I don't know,we ran into each other in LA, he gave me his phone number. He said, "You know, I'd love to hang out with you sometime. Let's get together." And I said, "Great." And then his book was about to come out and we went out one night and he said, "The were some things in the book which aren't really very nice, but I just wanted to let you know ahead of time that it was all done in good fun and, you know, nothing was meant in a negative way. And I said that's fine, as long as it's not too bad then I don't mind. And then the book came out, and two days after the book came out, before I had a chance to read it, he called me up and asked me to his book signing celebration dinner, and I went to the dinner, and I sat next to him, and we spoke about the things that he wrote, and I told him what I didn't like and I told him what I did like, and he seemed fine with it, and we went back to his house afterwards, and he sang some karaoke. He was doing some Bee Gees with his friends Twiggy and Rose McGowan, and, uh, that was pretty much it - oh, he had Leif Garrett there too, which I thought was pretty weird, that he was hanging out with Leif Garrett but-

Leif Garrett is popping up everywhere! He just did a song with the Melvins doing "Teen Spirit," Nirvana's "Teen Spirit." What the hell's going on with Leif?
I have no idea. I am not his publicist and I cannot comment, but all I know is he was there, which I thought was pretty strange, and then several months later, all these interviews started popping up with Marilyn Manson where he was making fun of that evening and trying to basically seem like I was hanging on him when he was the one who invited me everywhere, so I didn't appreciate that too much, so basically that is where we're at, you know. I think he tried to utilize my name to make himself look better, and I don't respect people who do that.