Do you think you might put him in a movie?
Didn't he play a Canadian border guard in a film?
Yes, he did! In Highway 61 by Bruce McDonald.
That's exactly right. I saw that film. I wouldn't be opposed to putting him in the film.
Well, Marilyn Manson, speaking of hockey hair and mullets: Creed. What about Creed? Are they really the new Stryper of the new millennium?
Those are your words, not mine, but I think that's quite an accurate description.
Actually I thought you might have actually said that. I noticed it on the metalsludge.com website. Have you checked that one out at all, Marilyn Manson, metalsludge?
I've seen that - well, I can say this without using any defamation of character that if they are the Stryper and they are the Christians that they say they are, I have seen them at liquor serving establishments which I find to be very unChristianlike.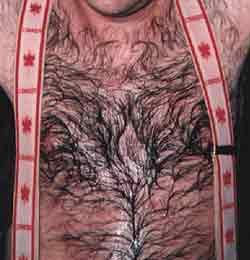 Now, I don't know if you are going to like this or not, Marilyn Manson, but um, if you could hold the mic here for one second-
Sure.
What do you see? This I think really offends you. What do you see here?
[Nardwuar removes his shirt]
I see a very hairy chest, but quite impressively shaped though. There's a symmetry to the way the hair is growing on your chest.
I understand, Marilyn Manson, that that kind of disgusts you slightly.
Not necessarily. It's uh, I myself don't like chest hair on my own body. I don't mind it on other people's bodies; that's their bodies.
Marilyn Manson, Quiet Riot. Did you bring them in one time to play a private party? Did you help bring them back?
Unfortunately I think I may have been responsible for bringing them back. I did have them play a party.
"Come on Feel the Noize" - why, what happened? Have they been hitting you up for opening spots at all?
No, but they were on some VH1 "Return of" something or other, and I feel like I may have put them back into the public eye which I feel might not have been a good thing to do.
Marilyn Manson, what about King Diamond? Are you a big King Diamond fan?
The rest of my band is, but I missed the King Diamond thing. When I was into metal, it somehow escaped me.
Because for people who don't know, there have been a lot of comparisons between King Diamond and Marilyn Manson?
Our voices are very similar. He has that realy high... "laaaa" thing going on, that I can't really do, but...
But like the name, you know: King Diamond, Marilyn Manson, you both sing about the occult, and you've both been ordained priests, by Anton LaVey.
Is he also?
Yes, he was the first rock 'n' roller ever to be ordained a priest by the Church of Satan. The guy from King Diamond, King Diamond. Just like you, Marilyn Manson!
Well, I guess maybe we're not so different.