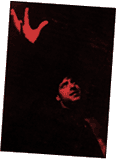 Was it a bummer getting killed by an angel? You were killed by an angel in the movie The Prophecy II.
Yeah, no, it was just a movie. (laughs)

For two years, two years, Glenn, you were in total legal limbo. Now, your new album, 6:66 Satan's Child is out. You demonstrated a lot of patience there, didn't you?
Yeah, it was very tough because, uh, my initial reaction would be to go in and like destroy everybody, but, um, I knew in the end I would win, and uh, I did.

When the Misfits played the Channel Club in Boston, years ago, the entire audience showed affection for you by dogpiling on top of you. Like on stage, all these guys like from SSD , and DYS jump on top of you in some video, and when you are finally uncovered, you just say, "That was pretty cool." How did you get through that? All these people dogpiling on top of you!
Uh, it's just a Boston thing and I was used to it. I mean, you know, I was part of it too. You know, someone would jump on you, and you would jump on them, and then it would start getting crazy, and then you'd jump out, and then jump back on the pile. Yeah, it was just a Boston thing back then.

Have you ever been scared by anyone, Glenn? Now that you finally have an album out called 6:66 Satan's Child, you know, can you mention the name of the demon, you know, He Who Cannot Be Named? Have you reached that point yet?
(laughs) "He Who Cannot Be Named" is about some stuff I had been reading about and um as far as mentioning a name of he who cannot be named, uh I am sure people have mentioned it many times but not realizing it.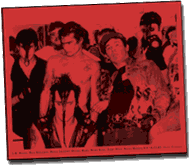 Have you yourself ever said it in interviews or in songs?
No.

And do you think you ever will?
Uh, not for other people, no. I'll let them decide.

And, Glenn Danzig, on 6:66 Satan's Child, you have that tune, "Cult Without A Name." Do you still want to raise an army and start killing people, like, the Danzig Force is the army you have, with the motto, "The Danzig Way: The Only Way"?
(laughs) No, um, "Cult Without A Name" is about a lot of different things, um, and it's also about, um, mainly I mean one of the things that's really cool about is it's a metaphor for music... punk and then later on you know hardcore and all that crazy stuff, it's just that the whole journalistic world would just not acknowledge that there was another music than just The Who and Foreigner and you know what I mean? All these you know really awful '70s rock bands. And to this day even MTV and Rolling Stone will not give any credibility or acknowledge to any really hard bands.

It seems though that they do do weird product placement in movies. Like, the film Higher Learning about hate on campus, has the main Nazi character putting up posters in his dorm, including a huge Danzig poster.
Yeah.

And then the movie 8mm has the serial killer has the Danzig poster in the bedroom, so it seems that although Hollywood may have ignored it, they kind of have thrown it in there in some weird instances.
Well Hollywood has never ignored it. It's the, you know, when I said the music journalists, you know, in the journalistic world, mostly here in America, I mean, punk and hardcore were totally ignored. And even in the beginning, Danzig, no one would even do articles on us, at all. And I know that there are a lot of other bands like that, like Pantera and other bands and just anything that is really hard and in your face always gets treated like it's not, you, like it doesn't exist.

Do you have any control when they say, "We're going to put your poster up" in a movie like Higher Learning or 8mm? Do they actually come to you?
Well, in Higher Learning, we had no control. They did that without our permission. Um, so we sued them, which was cool. But in 8mm I thought it was really cool, and I gave them permission to use it.

There is some fun stuff too. Like, a friend of mine was watching Cheers and he looked right in the back room and there was some graffitti scrawled there, and it was like, "Static Static Static - we're on a video rage" on Cheers, written in the washroom!
That's pretty weird. I've never seen that.