I was afraid to pronounce it... continuing on, "Fits well with their heavy metal earsplitting music. Dressed in chains and studs, singer Rob Halford has been known to drop his leather drawers mid-concert." Have you ever done that, Rob?
Yeah I do that most nights. Yeah why not?
"When asked if he was personally involved in the S&M love torture techniques parodied in his performances Halford replied "To a certain extent. Sexually I've always been to the fullest extent of the experience S&M has to offer. It's nice to experiment by yourself and get off on whatever you get off on."
Yeah, my best friend is a jar of baby oil and a porno mag.
"A rock magazine promoting one of other albums may have said it best 'Judas Priest has sin for sale.'" Rob Halford, what do you think of that?
I don't know exactly what this book is about. What is it about?
It's about all of the 'bad' bands...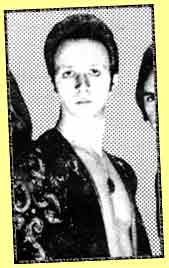 (Looking at back cover of book) They listen to the words and don't like what they hear?
Well... I guess I was curious do you have a dungeon in your house?
Yeah, actually. I do actually. Yeah, I have a dungeon and it's in my place in Phoenix and it's right next to the workout room. Uh, 'cause you have to pump up a sweat before you go into the dungeon routine. But in the dungeon I've got like a sling, I've got like a gynocological chair, I've got whips and chains and black candles and all this other cool stuff.
Which is...
Which is up for sale shortly 'cause I'm moving.
On the internet.
That's a good idea. eBay. Watch out!
Just like some guy from Stryper put who put up all his stuff for sale. I think one of those Stryper outfits was for sale.
Y'know KISS just had their big auction. You could buy a piece of crap from KISS for like two thousand dollars.
But Rob, what's amazing is Pat Boone... you're approved by Pat Boone. Pat Boone covered one of your songs, right? Explain a bit about that. Like the parents should know that. Y'know, screw Satan!
Yeah, you know isn't this bizarre. Here's Pat Boone babbling, speaking in tongues, trying to heal people with his hands and he gives me a call and says "Rob, will you sing on my album," 'Pat Boone In a Heavy Metal Mood'? (laughs) So he sends me this kind of swing Las Vegas version of... (snaps his fingers and puts on a crooner's voice) "You Got Another Thing Coming" baybee, yeah!
Right here before your gig, Rob, what is your pre-gig warm-up? I heard you listen to a lot of Sabbath.
I think this is it. I'm having it right now. I could literally walk from this room and rip the skin off people's faces.