The Judas Priest song, "Raw Deal". Is the song "Raw Deal" about cruising a gay bar?
"Raw Deal" was a very open song for me. Yeah, that was like really a moment that I thought people might grasp onto, but it just went vvvrrrrrooomm right over the top of people's heads. But i mean I've never cheapened the music in so much as using it as a platform for my own personal gain. A lot of my lyrics are subjective. A lot of my lyrics don't have a gender placed on them. It's never 'he and she', because I've always felt that that way it just opens up the listener's possibility to accept it from whatever they want to take it from. But that's just a side issue of a lot of things of who I am and what I am as a person.
(Reading Rob's lyrics) "Temptation: don't lead me into temptation." Now were you lead into any temptation by Trent Reznor, Rob? The 'two' inch nails?
Two inch?! No, I'm totally temptation-free. But I'm constantly being drawn onto that path, and I avoid it like the plague. It leads you down the straight and narrow which is exactly what I'm not. (laughs)
What about the e-mail that you've had on the back of your record? It actually says your actual e-Mail on the back of the record. It has your website but it also has your email, have you checked that? Can fans actually check out halfordrob@aol.com. Are you checking that?
Yeah, I mean that's what it's there for. If you want to write me and say whatever's on your mind, just go ahead and send it in. We've got this great website called robhalford.com which is a combination of biographies, discographies, all the tour dates, you can buy tickets for the shows from there. You can find everything you want to find out about Halford. Where we're going to go next. What we're going to do next. And that where I would urge everybody to go first robhalford.com. If you want to get personal, send it to my own personal aol account.
Two quick questions here winding up here with Rob Halford. Thanks for the time, I appreciate it. Right now is an election year. George 'Dubya!' George 'Dubya' could get in!
Daddy's boy! Daddy's boy! George 'Dubya'!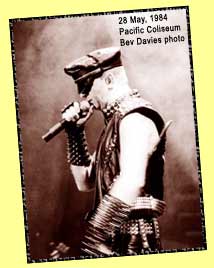 And he's the one who authorised Operation Desert Storm. What do you think about that? 'Dublya' getting in?
He won't. It'll be Gore. Gore baby. But I just hope Tipper keeps her mouth shut. Tipper you tried to crush us and you failed! Miserably. (Rob flashes the 'Satan' hand sign!)
And finally here, Rob Halford. We have Paul Stanley in the Phantom Of The...
Opera.
We have Sebastian Bach in Jekyll and...
Hyde.
And we have Rob Halford in Oli...
The what?!
Oliver?
Oliver!?!
Rob Halford in Oliver?
I see myself in 'The Sound Of Music' actually. You know, doing that twirling bit at the start that Julie Andrews used to do with the helicopter shot. That's me. (laughs) The hills are alive with the sound of the metal god.
Thank you metal god! And doot doola doot doot...
Doot... doo?