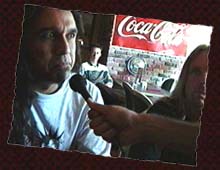 Are Metallica wimps?
Jeff: I never got into a fight with them, so I don't know.
But their fans... your fans think that they're wimps, don't they?
Tom: I.... probably do, yeah.
Because, like, your fans are pretty devoted to you. What do you think of your fans?
Jeff: They're devoted to us, very much, yes they are.
Do you notice them heading to the liquor store right now? There's a whole bunch of them walking to the liquor store. I was wearing my Slayer T-shirt and they were like, "Yeah, Slayer, the gig's tonight!" They got the liquor!
Tom: That's okay. They've got to get the right mindset I guess.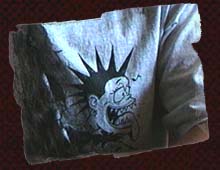 They're so devoted to you, they refuse to believe any-thing that is told to them about Slayer. Do you guys like yogurt at all?
Jeff: I don't.
Tom: I do. (laughs)
You like yogurt!
Tom: With fruit! (laughs)
There is this guy, Tom, in Tacoma, his name is The Mosher. Now, this guy in Tacoma, his name is The Mosher. He was told, I think he was told that Slayer eat yogurt! And he was like, "Slayer eats yogurt?! No way!!! No, that's not what I believe! Slayer, Slayer eat... pussy, man!"
Tom: Yeah, I do that too! (laughs)
What, what do you think about... I mean, is it, da da... they just couldn't change this guy's opinion like they have the stuff, you know, that's stuck in your mind, like, you don't eat yogurt.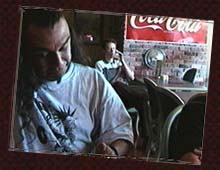 Jeff: I do not eat yogurt, no.
But what do you think of these fans that have this idea about you, you know, like, you do, you eat yogurt and pussy, like, it's weird that they have that feeling, don't you think so? Like, they believe stuff maybe that isn't actually true?
Tom: That's true, very true. There are a lot of things that they believe that aren't true. (laughs)