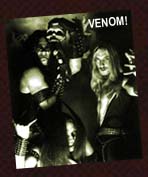 What's your best Venom story? Do you have any good Venom stories, you guys going on that tour with Venom?
Tom: Yeah, I have a story but I'm not going to tell! (laughs)
Jeff: That's a secret.
Oh please, Tom, just a tidbit!?
Tom: No, I can't tell you.
Jeff: Uh-uh.
Tom: Nah, I can't tell you that story.
Does it involve Shark?
Tom: No (laughs)... Shark?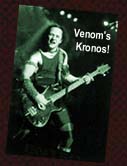 Because on that tour, Kronos was saying, Kronos was saying all the bands were, like, out front headbanging. Like, all the bands would be out front headbanging to Venom. Like, Venom were the best. Were you actually out front there? In the "Ultimate Revenge" video, you know, were you out front headbanging yourself to Venom?
Tom: I don't remember that.
Jeff: I don't think so.
Tom: No, I was probably on the side of the stage or up at a distance up on the balcony watching. I don't remember being up front moshing.
Tom of Slayer, how do you do your special... how did you develop your special headbang? It's not the classic, you know, you've got your own left-to-right. How did you develop that headbang?
Tom: (laughs) Let's see. I went like this, like this, like this, like this... and it came out pretty cool. (laughs)
It's different, isn't it? When you see him doing it, what do you think of, Jeff?
Jeff: I think he's going to, like, fall of the stage or something because... it is, it is pretty different.
What makes you bang head? What makes you want to bang head?
Tom: The music! (laughs)
Did you ever hurt your neck at all? Has there ever been any neck problems?
Tom: Nah, no neck problems.
I heard that you puke before ever show out of nervousness. Does that still happen?
Tom: That still happens, yeah.
So tonight, no booze, just­
Tom: It happens sometimes but not all the time. I always get nervous but sometimes a little more than others. That's all.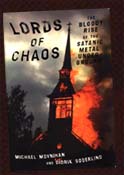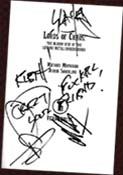 Now, there's this brand new book out there called Lords Of Chaos. Have you seen that book, that death metal book?
Tom: I've heard about it. Yes, I've heard about it.
And, like, you know, it talks about all those bands, those Norwegian black metal bands, you know, where, like, they burn churches, they eat pig brains and stuff like that.
Tom: And they kill each other, right?
And they kill each other. And you are actually in this book quite prominently. You are actually described as "a lesser Venom."
Tom: A lesser Venom!
You are described as "a lesser Venom." But what I was­
Tom: Yeah, that's why we're still playing! (laughs)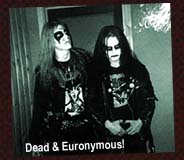 And it's Lords Of Chaos, the name of this book is. But when you're on tour, did you ever play with any of these bands like Mayhem at all? Because I was looking at these pictures and this looks pretty scary. And a lot of these guys... well, have you ever come into contact with any of that? Like, have any of their fans been mad, "Hey man, Slayer, you're not killing people, you're not burning churches. We're mad at you."
Tom: Fine. (laughs) They can be mad at me. I don't care. (laughs)