Nardwuar: Who are you?
Snoop: Big Snoop Dogg from the DPGC, oh way.
You are Snoop Dogg in Vancouver, British Columbia, Canada, and, Snoop, we would like to give you here (hands two bottles) some juice and some... Gin!
Some gin! Why not! On the Dogg, then we gonna all roll down the street, wes wes yes yíall style. You chilliní here with Big Snoop Dogg all across your face. How you like that?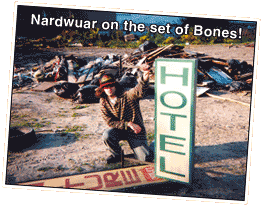 Now, Snoop, Bones, the movie. It was written for you. Thatís incredible!
I mean, you know, it was about time for me to get into the movie world so, why not get into the movie world with a movie that was, you know, created around myself so I could get into it and do my best things as far as acting was concerned.
1979 is the year. Harlem is the place?
Uh, itís not Harlem. Itís Anywhere America, you know I mean? Itís the ghetto across the world. It has no specific place or time. You know, itís just set in 1979 and, I mean, you know, it was a beautiful time of our life. But there really is no city, no state located.
Snoop is on the streets doing numbers?
Definitely doing it, as Jimmy Bones, you know. Runniní numbers, taking care of the community, you know, spreadiní love, keepiní the crime out, and bringing unity.
Having a good time, and then comes in another influence: crack.
Yeah, please believe. The thing that knocked the whole mack game off its feet was the crack game, and that came in 1980, and thatís what destroyed my community and made us, you know, have a downfall ícause I was wiped out completely. Iced, baby.
But, twenty-two years laterĖ
Yes, my soul cannot rest. So I definitely had to come back and get some payback, you know what I mean, some of that big payback. Revenge. Sweet revenge, Jimmy Bones style.
And you come back as a dog, Snoop Doggy Dogg? As the character Bones?
Mmm, sorta kinda, I mean... itís a little Dogg in it, you know, but for the most part, youíd have to see the movie. I donít want to kill everybodyís, you know, intuition as far as giving the whole movie away, but itís worth seeing, knowing and imagining. So when it come out, be sure to get down to the theatres and check it out. Snoop Dogg is Bones.