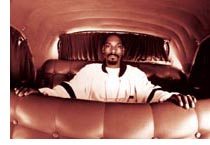 Now, I gotta ask you Snoop Dogg, what do the Muppets think about endo?
Uh, we didn't talk about endo, but I mean we shot it in Vancouver, B.C., so I'm pretty sure they're aware.
I mean, you look at Kermit, he's pretty green and you got a new green car, so do you think Kermit is down with it there Snoop Doggy Dog?
You never know, you'd have to ask him. Snoop Doggy Dogg, Kermit the Frog, bow wow.
Snoop Doggy Dogg, is this the ultimate way to get high? What can you tell the people about this, right here? [hands Snoop a Talkbox]
This is umm, it looks like a vaporizer, but it might be the Talkbox that Roger Troutman used to use but at the same time, Animal, from the Muppets, he had one in his mouth on the set today, getting his thing on with it. So it might be, you never know.
That's what it is, it's a Talkbox, Snoop---
[in reference to all the things Nardwuar has been putting in Snoop's hands] You must think I am stronger than the Muppets. You keep putting shit in my hands.
[laughing] Snoop what's the importance here, Snoop, of the band Zapp and Roger Troutman? [hands Snoop a Zapp record]
Well, the importance of Zapp and Roger Troutman was, they were a part of this funk movement, extended at putting the game by Boosty Collins and George Clinton, you know, coming from the product of James Brown, the king of funk, the godfather of funk, the godfather of soul. So I mean Zapp was another branch to the funk tree, just like I'm funked. You know what I'm sayin, I am a branch of the funk tree. It was a part of the game that needs to be spread out and it spread out and you know, bred people like myself. It's a good thing. Roger Troutman, rest in peace.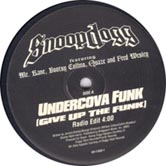 Snoop Doggy Dogg, I think it's great that you can work with the old school rockers right here. [hands Snoop the "Undercover Brother" CD Booklet] You working here with Bootsy Collins, Snoop Doggy Dog, that is amazing! And Fred Wesley!
[imitating Bootsy Collin's voice] "Bootzilla baba." I mean, I'm a part of the funk train, you dig what I'm talking about, I mean I'm before my time, man in a real way I think I'm a throw back. I go back with all of the old school acts and I can make things for the new school people as well. But you know being able to work with Bootsy, Fred Wesley, George Clinton and all those great artists form back in yesteryear, it's a beautiful situation and I'm glad that they accept me for who I am and let me continue to drive the mothership connection to the funkmillenium baby.
Now winding up here, Snoop Doggy Dogg, do you think you ever will make a comedy record, maybe like Richard Pryor? [hands a copy of Richard Pryor's "Supernigger" Album to Snoop]

Supernigger! You know what, I got a character I'm making called Supernigger. I need to get this album. Thanks. [Snoop then throws the record to Ted]
No, not again Snoop! You're stealing my stuff!
I ain't stealing it, I'm taking it!
No, no no no no! You just realized that there was a record in there! [Nardwuar usually brings record sleeves, minus the vinyl] and actually, Snoop, Blowfly, what can you tell the people about Blowfly? [hands Snoop a Blowfly Lp] DJ Quik is down with Blowfly.
Me too. Rap Dirty, Blowfly's Convoy, Electronic Pussy, what else is on here? Sesame Street, Batman Sign, One Less Dick, Tom Jones Show. Blowfly is a legend man. Him and Rudy Ray Moore, they had records back in the days, they used to be at my house and they used to be up under the component set and our mom's would leave and I'd slap 'em on and listen to what they say to and just have a ball listening to them, man. This is another record I'm taking from you.
Actually there is no vinyl record in that one.
I just need the cover.
Ba-boom, because you are Snoop Doggy Dogg! Now Snoop Doggy Dogg, lastly, I want to talk about your brand new record, "Welcome To Tha House." Now tell us about the Girls Gone Wild section of the CD.
Um, the Girls Gone Wild section of the CD, that's something I did with Joe Francis, the creator of Girls Gone Wild and he just puts the freakness in your weakness you know what I'm talking 'bout. It's a good thing that we can mix the both of them up and make it happen like that. Y'all go and get it, "Girls Gone Wild, Doggy Style," when it hits your store, real soon.
Have you ever heard of the movie, "Meet The Feebles," at all?
Yeah, you know what? I seen that movie, late night, one night. I heard that the guy who directed uh…
Lord Of The Rings!
Yeah, I heard he did it and when I seen it, I told one of my artists I was like, man Mr. Kane, you have to see this movie, this shit is so off the hook with these Muppet-like characters and they were shootin' and having sex and just being so real, it was like, a crazy movie to me. I actually bought the movie and I watched it and I watched it and I watched it and I feel like that's a classic movie that people really need to know about.
It's like the X-Rated version of the Muppets isn't it?
The shit is hot.
And you are kind of like the ghetto Steven Spielberg, aren't you there, Snoop?
Nah, I'm the ghetto uh, Martin Scorsese.
Did you win awards for your porno?
Yeah I won two awards, two AVN awards. I won the top seller adult video of 2001 and then I won the best music in an adult video.
Snoop Doggy Dogg, what about your theme park? Is there going to be a theme park? A Snoop Doggy Dogg theme park?
Yes, I'm trying to create a park right now called Doggy Land, where we'll have a lot of rides and fun-filled things for the kids as well as the adults. Just trying to get it together and find the right location, so be on the lookout for it.
Snoop Doggy Dogg, here we are at the end of the interview and you're walking away with my stuff again!
I mean, it's like taking candy from a baby. You're such a nice guy.
Remember last time you took my Whispers record, and remember the Redd Foxx doll?
Yeah, that shit was dope. I had a great time taking it from you too.
[laughs]
I never stole something so easy before.
Well I didn't give you the Redd Foxx doll last time. You took the Whispers record, whatever happened to that?
It's at my house getting spinned right now. I love the Whispers, I grew up on them. You know how it is, when you see something you grew up on and you ain't see it in a long time. [Sings] You just got to have it. I got to have this.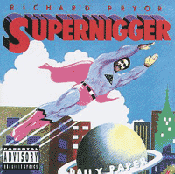 And now you're taking my Blowfly and Richard Pryor records!
Look. Up in the sky! It's a bird, it's a plane! [in deep voice] No, it's Supernigger and Blowfly!
Stealing stuff from Nardwuar the Human Serviette.
I got to do it.
Well thanks so much Snoop Doggy Dogg. Really appreciate your time anything else you'd like to add to the people out there?
Thank y'all for supporting me for so many years, you know what I'm saying, it's true you can do what you wanna do if you keep God first and just believe in yourself. Um, I'm a proven example of that. I'm going to continue to make good music for those who love and support me. Y'all keep doing what y'all do, while I do what I do. LBC, I love ya. Chuch.
Snoop Doggy Dogg, thanks very much. Keep on rocking in the free world and doot doola doot doo…
Doot doo. [laughs]
Note: A few weeks after this interview took place Snoop's appearance in "A Very Special Muppet Christmas" was cut out. Apparently a special interest group pressured the producers of the special to axe Snoop, because his "controversial image is not suited for children."